6HP MH & MLH FOURSTROKE
28 March 2022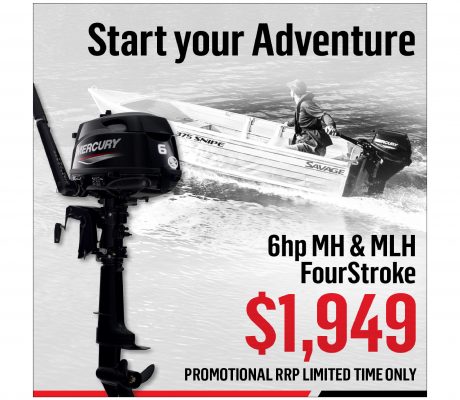 Rather be out on the water? With a range of savings on our portable outboards, you can get there sooner!
Don't miss out on this 6hp MH & MLH Four Stroke for just a stunning $1949. Grab this amazing offer while it's available
Taking the fun with you is one of the great advantages of owning an inflatable boat or small fishing boat. The portable Mercury 6 hp FourStroke outboard makes operation and portability easy with smart, simple features. Plus, clean, quiet, fuel-efficient FourStroke performance makes them the obvious power of choice. Manufactured to the same high standards of corrosion resistance as larger Mercury models.
At 57 pounds (26 kg.) the compact 6 hp is one of the lightest in its class
An automatic decompression relief greatly reduces pull force for effortless starting.
Promotional pricing is for a limited time only, talk to your participating dealer. T&Cs Apply.