9.9hp MH & MLH Four Stroke
22 March 2022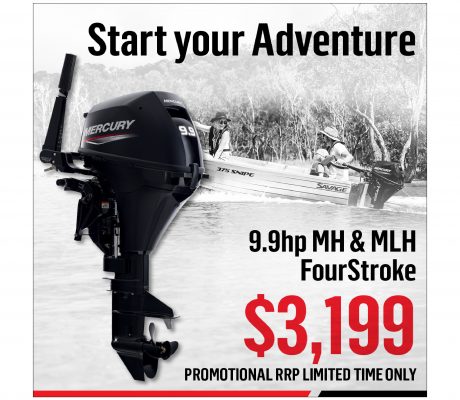 Rather be out on the water? With a range of savings on our portable outboards, you can get there sooner!
Don't miss out on this 9.9hp MH & MLH Four Stroke for just a stunning $3199. Grab this amazing offer while it's available.
Still, the lightest engines in this class, Mercury 9.9 hp FourStroke outboards feature an Exclusive Multi-function Tiller handle that puts control of throttling, shifting, steering and tilting in the palm of your hand. Designed for Heavier Boats that you need more thrust for control is the 9.9 hp Command Thrust Model which features a heavy-duty gear case, with a lower gear ratio that swings a bigger prop for more forward & reverse thrust improving hull control & performance
Promotional pricing is for a limited time only, talk to your participating dealer. T&Cs Apply.